Home | Biography | About us | Comments | Music | Venues | Churches | Latest News | Links | Guestbook | Calendar

The Rudgate Singers at the Church of the Holy Souls in Scunthorpe (above),
with Fr. John Cahill - Parish Priest (right).
We are an ad-hoc choir with the emphasis on restoring Sacred Music to church services in its liturgical context as opposed to the concert hall or recording studio. Members, who are all volunteers, are at present based in the North of England and in Scotland.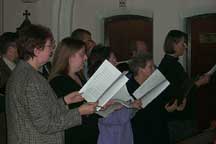 We normally sing two to three times a year at specially arranged services, usually Mass in the Traditional Roman Rite and would like to increase this to sing for other services such as Solemn Vespers and in more locations throughout the UK. We are therefore looking for more people to join us.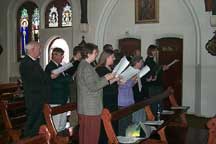 The choir is Catholic in ethos, though many of the singers are from other churches, mainly Anglican, or do not belong to any church denomination at all, but simply enjoy singing with us. Anyone who wishes to sing traditional church music in its original liturgical setting would be made very welcome. Attendance varies from event to event, depending on the voices needed and the location of the churches where we sing. There is no commitment to sing for every service, though the more people can manage the better!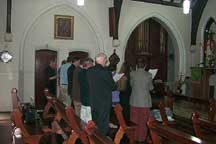 Our repertoire consists mainly of Gregorian Chant and Polyphony, and we occasionally join forces with theSchola Gregoriana of Northumbria to great effect.
Music we have sung so far includes, Palestrina, Missa Papae Marcelli, Missa Brevis & Missa Assumpta est Maria Victoria, Requiems a 4 & a 6, Missa O Quam Gloriosum and motets by Victoria, Palestrina, Byrd, Bruckner & Stanford to name but a few.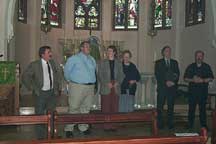 To date we have sung in churches mainly in Yorkshire, including the wonderful church of St Mary & St Everilda at Everingham with its glorious acoustic, Leeds Cathedral and Brinkburn Priory in Northumberland. We also have an open invitation to sing in Fontgombault Abbey in France. (The latter depends on an equal number of singing volunteers to make the journey viable both economically and musically!)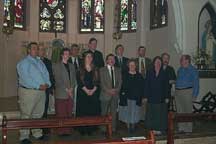 If, having read all this, you are interested in joining us from time to time, then please, contact me, Mike Forbester.
If you want to know what we've sung and when, please view our Biography and Venues pages. Also check up on future events happening in our Calendar page
| | |
| --- | --- |
| Rudgate Guestbook | |

Created 27th March 2001
Website designed by Angelic Creations
:info@angelic-creations.co.uk