Home | Biography | About us | Comments | Music | Venues | Churches | Latest News | Links | Guestbook | Calendar


See the music we have sung so far on our Venues page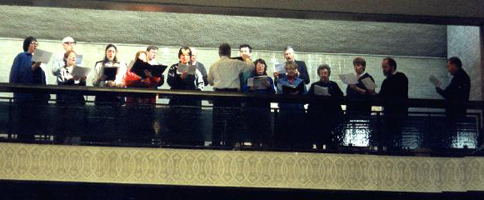 The Rudgate Singers at Holy Family Church, Pontefract.
Music we have sung includes, Palestrina, Missa Papae Marcelli, Missa Brevis & Missa Assumpta est Maria Victoria, Requiem & Missa O Quam Gloriosum and motets by Victoria, Palestrina, Byrd, Bruckner & Stanford to name but a few.
A brief(!) history follows.
Several years ago, I was approached by Fr Richard Aladics (then a Catholic Prison Chaplain - in my office) with a view to getting a choir to sing a High Mass somewhere in the Yorkshire Area. "You can choose the music...." Said he. Being a singer, I needed no further incentive!
Between Christmas 1995 and early January 1996 I managed, with the help of my sister, Bernadette, to put together a choir of 25 singers from all over Yorkshire and Northeast England for this.
Date and venue having been decided upon (Scarthingwell - a beautiful Catholic chapel near Tadcaster in North Yorkshire - June 1996) I then had to hire the music for the Mass that I wanted (Palestrina, Missa Papae Marcelli) which meant having to find a name for us in order to register with the library. As the idea originated in prison, I chose the title as Rudgate was the name of my old prison.
Rudgate is also the name of a Roman Road which terminates near Scarthingwell, and so was considered quite appropriate by everybody.
Due to some technical problems with the church (forward facing Altar bolted to the floor!) we were unable to have High Mass. We did however, have a lovely Missa Cantata with the Palestrina I mentioned earlier, some motets & plainsong propers, followed later by Choral Vespers and Benediction, after lunch in the Ash Tree Inn (local pub) at Barkston Ash. (Recommended)!
See the music we have sung so far on our Venues page